Cayucos California is one of the best places in the world to enjoy some seaside fun. Here, you can come for surfing and kayaking and can also experience all the amazing treasures that the mesmerizing waters of the sea hold!  Cayucos takes you aback with its beauty. The Central Coast of California definitely has something that you will never experience anywhere else in the world. One of the most popular places to visit in Cayucos is Good Clean Fun Surf & Sport. No, it's not a typical tourist spot, but it is the center for all things to do woth the ocean on the Central Coast. This place provides all that you need to enjoy the scenic sea. From wetsuits to surfboards and from kayaks to kayaking tours, they have it all.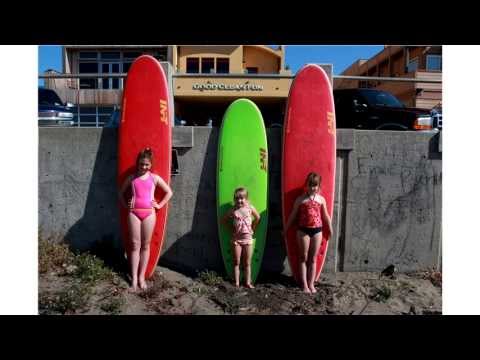 However, before you come to the best surf shop in Cayucos, it is important that you learn about all the things you can do here. Once you come to know what all is needed, you can easily walk into Good Clean Fun, the best surf shop in Cayucos CA and get ready for the amazing adventure.
Surfing
The first thing that comes to your mind when you talk about the Central Coast is obviously surfing. It's a place where novices and experienced surfers come to enjoy the great waves and weather. For surfing, you need a good surfboard which can be rented or purchased at Good Clean Fun Surf & Sport. They have soft top surfboards that is great for the beginners as well as intermediate surfers. Measuring from 6 foot to 10 foot in length, these surfboards have been designed so that the surfers are able to maintain their balance with ease. You will find that the surfboards kept here are of the highest quality possible.
What is great is you can join a few other surfing enthusiasts in the surfing camps that are organized every summer. These 4 day summer camps are available for every surfer who wishes to know more about surfing and meet fellow surfers. As a result, you will be able to network more. You will also be getting to know more about surfing techniques, water safety techniques etc. These surfing lessons Cayucos will enhance your surfing experience. There are 2 day surf camps as well which can be utilized for getting some great instruction. If you are looking for surfing lessons in San Luis Obispo and are not able to commit to a complete week for their camps, these 2 day surf instruction packages are perfect. If you want to be a part of these programs, call us anytime 805-995-1993.
If you are looking for surf classes or surf rentals anywhere in San Luis Obispo County, Good Clean Fun Surf & Sport is the palce. If you are a church group, a school group, a family or even a corporate group, you can come and join the surfing fun here. If you're looking for surfing lessons in Morro Bay Cayucos is only a short drive to the north, and the waves are generally more favorable to learning. You will be trained by experienced professionals who will be handling all your needs teaching you about surfing. Of course, if you wanna surf Cayucos, then you must definitely come to the Good Clean Fun shop and ask where the best sand bars are and where the waves have been best lately. The best thing about these surfing lessons for Morro Bay and Cayucos is that the instructors are always friendly and patient and they make sure that you do not have to worry about anything.
Kayaking
Kayaking is for those who want a very personal level of exploration in the sea. The kayaks available at the Good Clean Fun shop are perfect for you to explore the hidden treasures of the Pacific Ocean as well as the kelp forests and secret coves. Whether you are in Morro Bay or in San Luis Obispo, you will enjoy the diversity of kayaking conditions as well as the sea life. You will be able to see otters, dolphins, sea lions and even whales during many times of the year. In the summer time humpback whales can be seen playing in the waters off Cayucos and in the winter the California Grey whales make their annual pilgrimage through the waters off the Central Coast.
If you need kayak rentals Cayucos, then you need to contact Good Clean Fun Surf & Sport. You will get single and double kayaks here for the perfect experience. All kayaking equipment like paddles, life jackets, etc are provided along with the boats. However, here too, you will be getting more than just a simple kayak. You can also get guided group tours along with the kayak rentals in Cayucos CA.  You will be able to explore all the places where normal tourists are not able to reach and also stop at some beautiful cliffs and sandy beaches for getting the most mesmerizing view of the scene. These guided tours will take you to bays and coves that you lickley have never seen before, even if you have visited many times.
Wine Tasting
Wine tasting is one of the best activities that you can do apart from ocean sports in this area. You must definitely visit the wineries in Paso Robles. Wine tasting here is a great experience after you have finished your surfing lessons near San Luis Obispo in Cayucos. Zin Alley, Bonny Doon and Tobin James are the places to be. Domaine Alfred is also a great place to hang out in the evening with your group while you sample some of the finest wines anywhere in the world.
Natural History Museum at Morro Bay
This is another one of the places where you can go after you have finished your surfing lessons near Morro Bay. This place will demand a complete afternoon if you really want to see all that it has to offer. You can easily take a stroll here and spend your afternoon checking out the exhibits. If you wish, then you can also go to the Hearst Castle located just a short 25 minute drive north.
These are just some of the activities that you can do in Cayucos, California. This place has such diversity in vacation options that even a week of holidays is not enough for all that you can find here. However, still the most popular attraction for ocean lovers is surfing and kayaking in Cayucos. This is one of the primary reasons why the place has always been attracting surfers and kayakers from around the world.
At Good Clean Fun, you can expect pretty much everything that you would need for a great surfing and kayaking vacation. We suggest that you visit here in order to get the best out of your next vacation. Remember, that Good Clean Fun is the hub of the best surfing and kayaking experiences in Cayucos and the Central Coast. Good Clean Fun surfing lessons in Cayucos will never let you down and they always make sure you are safe in the water.
Spending a day, weekend or even a week here with your friends and family will be a great experience. Surfing in Cayucos California will give you a chance to make even your corporate retreats amazing. For this, it is important that you understand that coming to Good Clean Fun in Cayucos is the easiest way to make it all happen. Therefore, plan your vacation today and make sure you register for kayaking and surfing lessons.
Things To Do In Cayucos California
Good Clean Fun Surf & Sport
136 Ocean Front Ave
Cayucos, CA 93430
805-995-1993